Curbstile is the Ultimate prefinished modular curb system made from Solid Surface material that duplicates the look of Marble, Granite, or Onyx at a fraction of the installation cost.
Prefinished
Easy to Install
For Glass Block & Flat Glass
Stock & Custom Finishes
No Special Tools Required
Curbstile is designed to accommodate all major Glass Block Manufacturers as well as Frame and Frameless flat glass enclosures.
It is made from a cast polymer solid surface material that is nonporus, thus preventing the growth of bacteria and mold; components mimic the look of Marble, Onyx, or Granite, in a variety of colors. A custom color match is also available. Curbstile comes in a variety of components.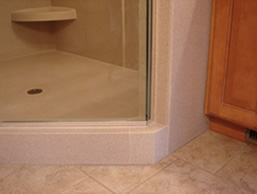 The Curbstile components are available for use inside Sketchup Software. We provide components for versions 4.0 and 5.0.
Click Version number to download.